A Toronto law association of lawyers, judges, students and others within the legal profession.
The Thomas More Lawyers' Guild of Toronto is committed to fostering pluralistic growth to contribute to its already robust Catholic and legal community.  The Guild is a trusted, membership-based network comprising of lawyers, judges, and law students following the Catholic faith. Beyond offering professional opportunities, their network serves as a knowledge-sharing platform for  its members. The Thomas More Lawyer's Guild of Toronto was looking for a revilized website to attract and grow its member base with tools to streamline all its communication, payments and event and membership management. Thinkbound collaborated with Thomas More Lawyer's Guild of Toronto to create a cutting-edge website and platform with centralized tools to administer members, events, news and more. The platform aims to elevate communication, foster collaboration, and promote knowledge sharing among their members.
Click and drag images to view gallery
Responsive Website Redesign
Thinkbound developed a user-friendly website that seamlessly adapts to both desktop and mobile devices, ensuring an accessible browsing experience for all members.
Optimized Performance: Thinkbound placed a strong emphasis on performance optimization. Quick load quickly, optimized images and efficient coding contributed to an easy user experience.
Responsive Design: We ensure that the user interface elements remain consistent across all devices to improve usability and also the brand identity of the Thomas More Lawyers' Guild of Toronto.
A Touch of Old and New: Traditional colours and headlining famous words bind together with the modern shapes and layout to create a unique balance.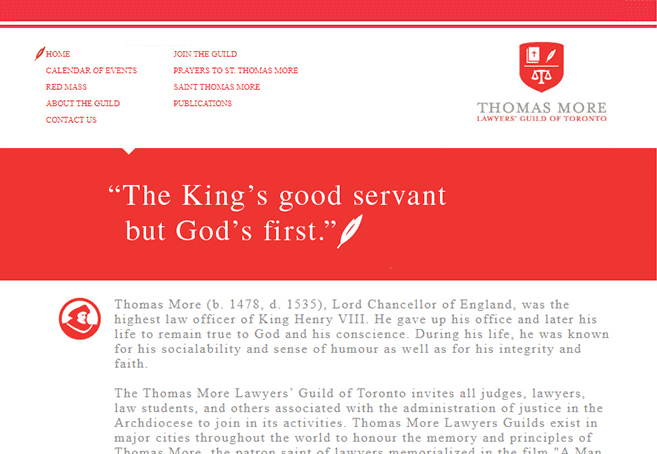 Membership and Subscription Management
Comprehensive membership management system that facilitates easy membership sign-up and renewals.
Streamlined Membership Onboarding: Users are guided through a clear and concise registration form, requiring essential information while minimizing friction. The form features error handling and validation to prevent submission issues and provide a smooth experience.
Personalized Member Profiles: Once registered, members can complete their profiles with relevant details such as their professional background, areas of expertise, and personal interests.
Membership Directory: A searchable membership directory is available, allowing end-users to explore members and connect easily. This directory showcases member profiles, including their professional backgrounds and areas of expertise, fostering collaboration within the community.
Access to Exclusive Resources: Registered members will enjoy unique access to resources, including articles, research materials, and event information at preferred pricing. 
Payment Integration (Stripe)
Integrate Stripe payment gateway to enable secure and convenient online transactions for membership fees, event registrations, and other services.
Secure Transaction Processing: The integration of Stripe ensures the highest level of security for all financial transactions. Stripe is known for its robust encryption and compliance with industry-standard security protocols, guaranteeing that sensitive payment information is protected from unauthorized access.
Payment Versatility: Members and users will have the flexibility to make payments using various methods, including credit cards, debit cards, and digital wallets.
Event Registration Payments: For event registrations, members and non-members alike can securely pay for attendance. This feature streamlines event management, ensures accurate headcounts, and simplifies revenue tracking for the Guild.
Transaction History: Users will have access to their transaction history, which provides a detailed record of their payments, making it easy to review past transactions and verify charges.
Member Profiles and Search Directory
Develop an interactive member directory featuring detailed member profiles, allowing users to search and connect with fellow members based on various criteria.
Advanced Search Functionality: Whether one is seeking legal experts in specific practice areas, professionals within a particular geographic region, or individuals with specialized certifications, our directory simplifies the process with our advanced search capabilities.
User-Friendly Interface: Navigating through the directory is effortless, ensuring that Guild members can efficiently access the information they need. With just a few clicks, users can discover valuable connections, facilitating networking opportunities and knowledge exchange.
Future-Ready: The Search Directory is designed with scalability in mind. As the Guild grows and evolves, the platform can easily accommodate new features and functionalities, adapting to the ever-changing needs of the Guild and the legal community. Launch Event of the new Website
On August 30th, 2023, the Thomas More Lawyers' Guild of Toronto held a successful launch event to unveil the new ThomasMoreGuild.ca website. This event was marked by a sense of excitement and anticipation as members and stakeholders gathered to witness the debut of the Guild's modern online platform and learn about its benefits.


Thinkbound's representatives attended the event, taking the opportunity to showcase the website's new features and functionalities. Their presence added a layer of expertise and insight, allowing attendees to gain a comprehensive understanding of how this dynamic online platform would serve the Guild's mission and its members.